Traffic, water penetration, de-icing chemicals and oil are primary factors in the deterioration of commercial parking structures.
As a result, parking deck surfaces and overhead concrete structures can be subject to spalling, cracking, corrosion, de-lamination and staining. Our team will inspect and restore the affected elements to prevent structural failure. Post rehabilitation services can include concrete deck coating, expansion joint modification and application of waterproof membranes.
Concrete Restoration
CPS has the expertise to replace or repair existing structural elements while the parking garage remains in operation. When partial depth repairs are not sufficient, CPS has the resources to completely remove and replace the entire concrete deck system while the garage remains in operation. Our experienced technicians utilize established repair procedures and techniques designed to restore the structural integrity and serviceability of the facility.
VIEW RELATED PROJECTS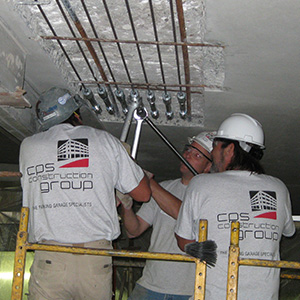 Pre-Tensioned and Post-Tensioned Repairs
Post-tensioning is one of the most advanced and efficient technologies used to reinforce concrete. Corrosion of unbounded post-tensioning strands has become a common problem for parking structures exposed to deicing salts. CPS offers a complete range of post-tensioning services for both new construction and parking garage restoration.
VIEW RELATED PROJECTS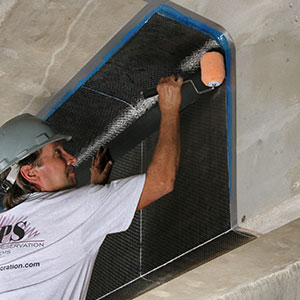 Carbon Fiber Strengthening
Carbon fiber is a reinforcement system engineered to increase structural performance.
Our highly skilled technicians utilize the latest technology to apply fiber-reinforced polymer (FRP) onto the surface of structural members in parking structures and bridges. The externally bonded carbon-fiber fabric has outstanding long-term physical and mechanical properties and is engineered to increase the strength and load-carrying capacity of the structure.
VIEW RELATED PROJECTS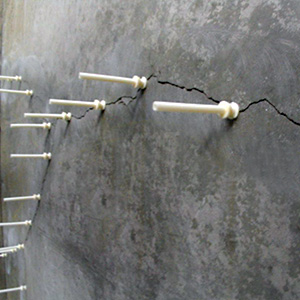 Epoxy and Urethane Injection
Epoxy injection is a non-invasive, economical, permanent repair process to restore cracked concrete slabs and walls to their original structural stability. Because epoxy is a stronger material than concrete, it is more cost effective than replacing the concrete. Applications includes concrete support columns, slabs, foundation walls, and more. Epoxy injection will provide a full structural repair and keep moisture from further permeation. In some situations, Epoxy Injection is combined with helical piles, permeation grouting, and slab jacking as advanced solutions.
Injection of elastomeric, fast-setting Urethane foams are effective alternatives for applications involving crack sealing where structural stability is not required. Urethane injections can be applied to damp surfaces and their flexible composition allows for minor shifting within the concrete.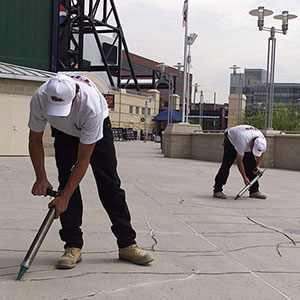 Crack Repair
Lean on our expertise repairing spalling and cracking in concrete floors for more than 30 years. Routing and sealing is the most common and effective method to minimize water leakage through cracks in parking garage floors. CPS utilizes specially-designed crack chasing equipment that provides an effective and environmentally-safe procedure for cutting cracks while keeping the air free from dust. Structural repairs using epoxy injection are also available.